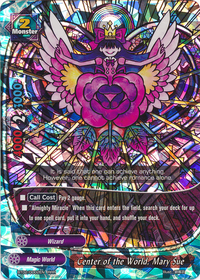 "Wizard" (魔術師 Majutsushi) is an attribute given to cards themed after magicians and witches.
Sets Containing Wizard Cards
Playstyle
In Magic World, the Wizards focus on taking down the opponent not through brute force, but through controlling and limiting their moves while slowly taking them down with powerful abilities to compensate their weaker stats.
List of Wizard Cards
Size 2
Size 1
Size 2
Size 1
Size 1
Size 0
Size 1
Size 2
Size 3
Size 2
Size 3
Size 1
List of Support Cards
Size 1
Size 2
Size 3
Size 2
Size 3
Trivia
Although this attribute was officially translated as "Wizard", cards with 「魔術師」 in its Japanese name are translated as "Magician" instead of the same name as the attribute.
Ad blocker interference detected!
Wikia is a free-to-use site that makes money from advertising. We have a modified experience for viewers using ad blockers

Wikia is not accessible if you've made further modifications. Remove the custom ad blocker rule(s) and the page will load as expected.