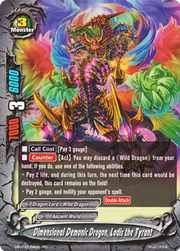 "Wild Dragon" (ネイキッドドラゴン Neikiddo Doragon, literally "Naked Dragon" ) is an attribute currently unique to Ancient World.
BF One Point Advice
The Wild Dragons are dragons, but unlike the "Dragon Lords" who gained the powers of the gods and transcended other creatures, they have evolved in a purely biological manner.
Playstyle
Like other Ancient World decks, Wild Dragons rely on using powerful size 3 monsters to overwhelm the opponent. Compared to other Ancient World attributes however, Wild Dragons aren't as strictly reliant on keeping the same size 3 monster alive at all times, size 2 and lower monsters can also be used for attacking or a different size 3 can be called to replace a previously destroyed one.
Size 3 Wild Dragon monsters often use effects that activate by discarding other Wild Dragon attribute cards, these effects often keeping the monster on the field, increasing the Soul, destroying cards, and nullyfing Spells. This is complimented with support cards that activate their effects when they're discarded, often to generate more resources.
List of Sets with Wild Dragon cards
List of Wild Dragon cards
Impacts
Items
Spells
Monsters
Size 0
Size 1
Size 2
Size 3
Impact Monsters
Size 3
List of Support Cards
Impacts
Items
Spells
Monsters
Size 0
Size 1
Size 3
Size 3