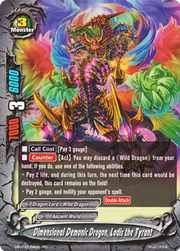 "Wild Dragon" (ネイキッドドラゴン Neikiddo Doragon, literally "Naked Dragon" ) is an attribute currently unique to Ancient World.
BF One Point Advice
The Wild Dragons are dragons, but unlike the "Dragon Lords" who gained the powers of the gods and transcended other creatures, they have evolved in a purely biological manner.
Playstyle
Wild Dragons follow Ancient Word's "Boss monster" theme of using size 3 monsters, but instead of keeping just one monster through the whole game they can also mount an offensive formation with their size 2 or lower monsters or bring a different size 3 in case the first one is defeated.
Some of their size 3 monsters specialize in being able to attack uninterrupted by having effects such as negating spells or being immune to destruction by effects and bouncing. Others activate their effects by discarding other Wild Dragons, usually to negate their destruction or negating and destroying opponent cards.
List of Sets with Wild Dragon cards
List of Wild Dragon cards
Impacts
Items
Spells
Monsters
Size 0
Size 1
Size 2
Size 3
Impact Monsters
Size 3
List of Support Cards
Impacts
Items
Spells
Monsters
Size 0
Size 1
Size 3
Size 3
Ad blocker interference detected!
Wikia is a free-to-use site that makes money from advertising. We have a modified experience for viewers using ad blockers

Wikia is not accessible if you've made further modifications. Remove the custom ad blocker rule(s) and the page will load as expected.