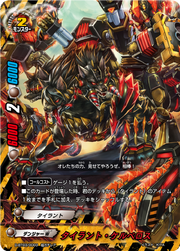 "Tyrant" (タイラント Tyrant) is an attribute exclusive to Danger World.
Playstyle
Tyrant seems to be an aggressive playstyle based around gaining life, then using that life to pay for item based abilities. Seemingly to increase critical or just control life break. They also have the best Item consistency of any Danger World deck so far.
List of Sets with Tyrant Cards
List of Tyrant Cards
Size 0
Size 1
Size 2
Size 3
Size 2
Monsters
Size 1
Size 2
Items
List of Tyrant Support Cards
Size 1
Size 2
Size 2
Ad blocker interference detected!
Wikia is a free-to-use site that makes money from advertising. We have a modified experience for viewers using ad blockers

Wikia is not accessible if you've made further modifications. Remove the custom ad blocker rule(s) and the page will load as expected.