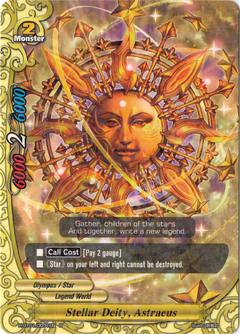 "Star" (星 Hoshi) is an attribute.
Previously being an atribute without a specific purpose, it has become a supported attribute on H Booster Set 1: Giga Future. Its playstyle revolves setting up a near-unbreakable formation that causes the opponent's cards to lose their abilities, severely limiting what they can do.
List of sets containing Star Cards
List of Star Cards
Size 2
Size 1
Size 2
Size 0
Size 1
Size 2
Size 3
Size 2
Size 0
Size 1
Size 2
Size 3
List of Support Cards
Ad blocker interference detected!
Wikia is a free-to-use site that makes money from advertising. We have a modified experience for viewers using ad blockers

Wikia is not accessible if you've made further modifications. Remove the custom ad blocker rule(s) and the page will load as expected.