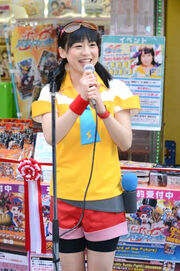 Sora Tokui (徳井青空 Tokui Sora, born in December 26, 1989) is a Japanese voice actress and a singer who works for Bushiroad Media. Her hometown is in Chiba, Japan. She voices Paruko Nanana in Future Card Buddyfight Anime. She also performed Buddy Buddy Fight!, Natsuiro Fighting!! and Wakey☆Thump SHOOTER, the ending theme songs of the anime. She put herself a nickname of "そらまる" (Soramaru).
Other Notable Roles
Ad blocker interference detected!
Wikia is a free-to-use site that makes money from advertising. We have a modified experience for viewers using ad blockers

Wikia is not accessible if you've made further modifications. Remove the custom ad blocker rule(s) and the page will load as expected.