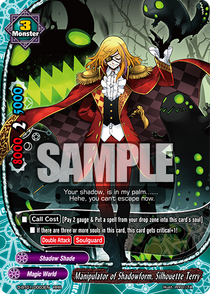 "Shadow Shade" (シャドウシェイド Shadōsheido) is an attribute, and currently unique to Magic World.
Playstyle
Shadow Shade monsters use cards in their soul as fuel for their effects. They use spells that are placed into the soul of their monsters instead of the Drop Zone when used to repeatedly use their effects, rewarding the player for casting more and more spells.
List of sets containing Shadow Shade cards
List of Shadow Shade cards
Size 0
Size 1
Size 2
Size 3
Size 3
List of Support Cards
Ad blocker interference detected!
Wikia is a free-to-use site that makes money from advertising. We have a modified experience for viewers using ad blockers

Wikia is not accessible if you've made further modifications. Remove the custom ad blocker rule(s) and the page will load as expected.