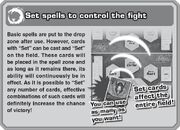 "Set" (設置 Setchi) is a keyword exclusive to Spell and Impact cards. Cards with this ability remain on the field after cast, and the act to cast is known as "Set". Unlike most cards that remain on the field, there are no limits to the number of Set cards on your field. Set cards will continue to apply their effects as long as they remain on the field and their conditions (if any) are met.
In the anime, Set cards are shown as an orb showing part of the card's image and their name in Kanji. If their effects are inactive (nullified, condition not fulfilled, etc.), the orb will be monochromed.
List of Set Cards
Others
List of Support Cards
Darkness Dragon World
Dragon World
Katana World
Legend World
Magic World
List of Anti-Set Cards
Darkness Dragon World
Dungeon World
Ad blocker interference detected!
Wikia is a free-to-use site that makes money from advertising. We have a modified experience for viewers using ad blockers

Wikia is not accessible if you've made further modifications. Remove the custom ad blocker rule(s) and the page will load as expected.