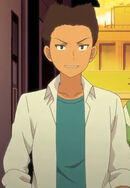 Ryo Mobutani (茂部谷了 Mobutani Ryo) is a delinquent whom Gao Mikado saved Kiri Hyoryu from. He and Shirou Gayaoka are led by Kenta Zakoyama. He uses Dragon World.
He is voiced by Ayumu Murase (Japanese) and Sam Duke (English).
Buddyfight records
Ad blocker interference detected!
Wikia is a free-to-use site that makes money from advertising. We have a modified experience for viewers using ad blockers

Wikia is not accessible if you've made further modifications. Remove the custom ad blocker rule(s) and the page will load as expected.