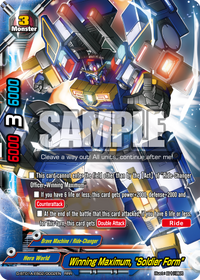 "Ride-Changer" (RC RC) is a sub attribute of the Brave Machine attribute, currently unique to Hero World. They are based around Transformers.
Playstyle
Ride-Changers focus on meeting a life requirement of 6 or less in order to initiate their "Ride-Change" which allows each of the size 1's to pay 2 gauge and send the card to the drop zone at any time to call or Ride a Size 3 version of that card to the field. This allows for multiple attacks during the turn to constantly deal damage and then have a secure defense during your opponent turn.
List of Sets containing Ride-Changer Cards
List of Ride-Changer Cards
Size 0
Size 1
Size 3
List of Ride-Changer Support Cards
Ad blocker interference detected!
Wikia is a free-to-use site that makes money from advertising. We have a modified experience for viewers using ad blockers

Wikia is not accessible if you've made further modifications. Remove the custom ad blocker rule(s) and the page will load as expected.