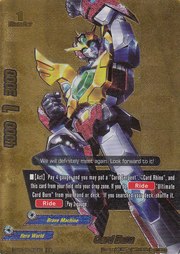 "Ride" (搭乗 Tōjō, literally "Boarding") is a keyword, currently unique to Hero World and Generic. It allows you to, after paying a cost, equip a monster in hand or monster space and treat it as an item. Using Ride is considered as equipping a item. Even so, 1 life may be gained by buddy gift if the card is a buddy. In effect, Ride and Transform are exactly the same. The only difference between each is their support cards.
It offers the advantage of monsters having defense to protect the player against direct attacks while keeping their properties and abilities, and because they become items they don't count toward's the player's size limit and are immune to monster destruction effects.
Ride is commonly given to 《Brave Machine》 monsters, though there are a few exceptions.
It is marked by the text: [Ride] [cost] (If you do, equip this card from your hand or monster space, and this card is treated as an item instead of a monster.)
List of Cards with Ride
Hero World
Size 0
Size 1
Size 2
Size 3
Size 5
Generic
Size 3
List of Support Cards
Rulings
Ad blocker interference detected!
Wikia is a free-to-use site that makes money from advertising. We have a modified experience for viewers using ad blockers

Wikia is not accessible if you've made further modifications. Remove the custom ad blocker rule(s) and the page will load as expected.