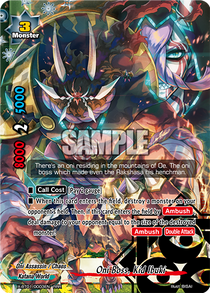 "Oni Assassin" (暗殺鬼 Ansatsuki) is an attribute. Some Oni Assassin monsters have a keyword called Ambush which allows monsters that were face down in the soul of a card on the field to be called from the drop zone when they are sent to the drop zone.
See also Assassination.
List of Sets with Oni Assassin Cards
List of Oni Assassin Cards
Size 0
Size 1
Size 2
Size 3
Size 0
Size 1
Size 3
List of Oni Assassin Support Cards
Ad blocker interference detected!
Wikia is a free-to-use site that makes money from advertising. We have a modified experience for viewers using ad blockers

Wikia is not accessible if you've made further modifications. Remove the custom ad blocker rule(s) and the page will load as expected.