This page is about the keyword. For the group of characters, see The Omni Lords.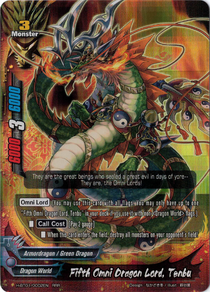 "Omni Lord" (角王 Kakuō, literally "Horned King") is a keyword which allows a card possessing it to be used in any deck regardless of which flag it's using. However, the card lists a specific flag (usually the standard flag of the world it belongs to), and if its not being used in that flag, only up to one copy of it can be used in the deck.
Latest Reminder Text
[Omni Lord] (You may use this card with all flags. You may have up to one "CARDNAME" in your deck if you use it with non-<WORLDNAME> flags.)
List of Cards with Omni Lord
Size 3
Size 3
Size 2
Size 1
Size 2
Size 3
Size 2
Size 2
Size 3
Size 0
Size 3
Size 2
Size 3
Size 2
Size 3
List of Support Cards
Size 2
Size 1
Size 2
Size 3
Size 2
Size 3
Other
Size 3
Trivia
This is the first keyword enclosed within a white box rather than red. In addition, this keyword is also the first to be enclosed within a purple box, present on "INV Omni Lord" cards.

This is the only keyword to have two different colorations.
This is also the first keyword to be placed above any card effects, even above the [Cast Cost].