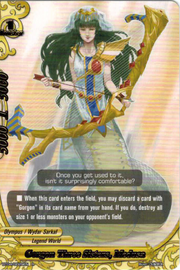 "Olympus" (オリンピア Orinpia) is an attribute given to cards based on characters from Greek Mythology, currently unique to Legend World.
While there is no concrete strategy with Olympus cards themselves, some of them seem to revolve around Gorgon monsters, whether discarding them or having them in certain parts of the field. There are also cards that deal with ability damage, whether protection against or dealing it.
List of Sets with Olympus Cards
List of Olympus Cards
Monsters
Size 0
Size 1
Size 2
Size 3
Spells
Items
List of Support Cards
Ad blocker interference detected!
Wikia is a free-to-use site that makes money from advertising. We have a modified experience for viewers using ad blockers

Wikia is not accessible if you've made further modifications. Remove the custom ad blocker rule(s) and the page will load as expected.