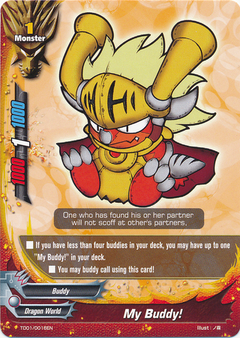 "My Buddy!" (俺のバディ Ore no Badi) is a series of monsters which share the same name (therefore, the rule 4-per-deck applies to the use of each member), all of them can be used as Buddy substitutes. Likewise, you may "Buddy Call" using it, and gain 1 life with "Buddy Gift".
Those cards have the artwork of a particular monster with chibi-style.
List of Sets Containing "My Buddy!" cards
List of "My Buddy!" cards
Ad blocker interference detected!
Wikia is a free-to-use site that makes money from advertising. We have a modified experience for viewers using ad blockers

Wikia is not accessible if you've made further modifications. Remove the custom ad blocker rule(s) and the page will load as expected.