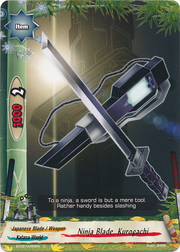 "Japanese Blade" (日本刀 Nihontō) is an attribute. It is currently exclusive to Katana World.
See also Blade Beast.
Playstyle
Japanese Blades focus around having multiple cards with the "Japanese Blade" attribute in the drop zone to activate various abilities pertaining to the attribute "Blade Beast". They tend of be very aggressive and excel well in an open center setup.
List of Sets containing Japanese Blade Cards
List of Japanese Blade Cards
Size 0
Size 1
Size 2
Size 3
Size 2
Size 2
List of Support Cards
Size 0
Size 1
Size 2
Size 3
Size 2