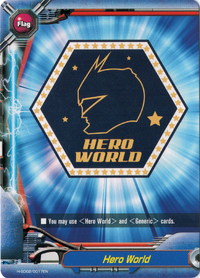 "Hero World" (ヒーローW Hīrō Wārudo) is one of the playable Worlds in Future Card Buddyfight. This world is themed after giant robots, super heroes, rescue dragons and aliens and pays homage to many classic Super Sentai, Kamen Rider, and Super Robot series. The card frame resembles a cockpit of a spaceship.
Playstyle
Hero World prides itself in its equippable monsters. These monsters, armed with the keywords Transform, Ride, or Station, can be equipped and become an item. This allows the player to ignore that monster's size and instead be granted that monster's defense in addition to its power, critical, and other abilities.
Depending on which keyword the monster possesses, the cards that help support that monster change as some support cards are restricted to specific keywords.
Hero World also has a darker side in the form of Darkheroes. Using unconventional tactics, Darkheroes use whatever means necessary to bring down their opponent. They can unleash multiple attacks with their monsters' hit-and-run tactics or by calling multiple impact monsters in one turn through special cards.
Associated Characters
Sets containing Hero World cards
Archetypes
List of Hero World cards
Size 0
Size 1
Size 2
Size 3
Size 5
Size 0
Size 1
Size 2
Size 3