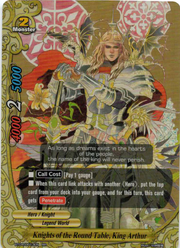 "Hero" (英雄 Eiyū) is an attribute that first appeared in Booster Set 1: Dragon Chief, but only received support as of Booster Set 4: Darkness Fable as one of the main attributes of Legend World.
The monsters of this attribute typically have effects that activate when they link attack in a similar vein to the Adventurer attribute from Dunegon World. The items typically have the Equipment Change keyword, allowing them to perform rather unique combos with items such as using a traditional weapon item to attack on your turn and switching to an item that helps you protect yourself on your opponent's turn.
List of Sets with Hero Cards
List of Hero Cards
Monsters
Size 1
Size 2
Impacts
Items
Spells
Monsters
Size 0
Size 1
Size 2
Size 3
Monsters
Size 0
Size 1
Size 2
List of Support Cards
Dual Cards
Legend World
Ad blocker interference detected!
Wikia is a free-to-use site that makes money from advertising. We have a modified experience for viewers using ad blockers

Wikia is not accessible if you've made further modifications. Remove the custom ad blocker rule(s) and the page will load as expected.