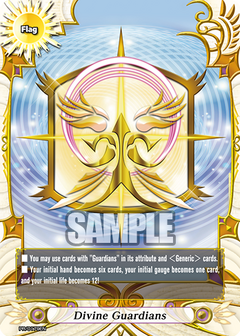 "Guardians" (天国 Tengoku or "Heaven") is an attribute.
The deck users are Ageha Gokuraku and Guru Bunbuku in the anime.
Playstyle
Guardians are centered around keeping the number of cards in your drop zone low to activate abilities and gain resources. Additionally, many of the Guardians can still be used as regular support for the normal Worlds they belong to.
List of Sets with Guardians Cards
List of Guardians Cards
Size 0
Size 3
Size 1
Size 0
Size 0
Size 1
Size 2
Size 3
Size 3
Size 1
Size 2
Size 0
Size 3
Size 0
Size 1
Size 2
Size 2
Size 0
Size 1
Size 2
Size 0
Size 1
Size 3
List of Support Cards
Size 3
Size 3
Size 1
Size 2
Other
Size 1