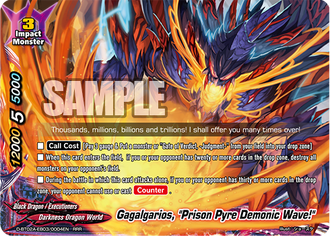 Flavor Text:
Thousand, million, billions and trillions! I shall offer you many times over!
Ability / Effect:
[Call Cost] [Pay 3 gauge & Put a monster or Gate of Verdict, -Judgement- from your field into your drop zone]
When this card enters the field, if you or your opponent has twenty or more cards in the drop zone, destroy all monsters on your opponent's field.
During the battle in which this card attacks alone, if you or your opponent have thirty or more cards in the drop zone, your opponent cannot use or cast [Counter].
Ad blocker interference detected!
Wikia is a free-to-use site that makes money from advertising. We have a modified experience for viewers using ad blockers

Wikia is not accessible if you've made further modifications. Remove the custom ad blocker rule(s) and the page will load as expected.