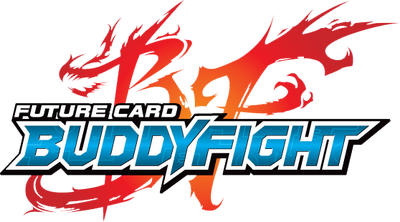 "Future Card Buddyfight" (フューチャーカード バディファイト Fyūchākādo Badifaito) is one of Bushiroad's Trading Card Games, officially announced on June 13, 2013.
This wiki provides the newest information and translations about this card game and other media related to it. The game was officially released on January, 2014 in both Japan and the US.
---
The following people are your local admins for the Future Card Buddyfight Wiki.
If you have any problems or queries about specific topics, please contact them at your earliest convenience.
---
For those who are new to Buddyfight or Card Games in general, take a look at the Gameplay & Terms page and learn about this card game.
---
For first time editors who want to know how to use some of the wiki's fancy Templates, check out our Template Guide page.
---
English Format
Released
December 8th, 2017
December 22nd, 2017
To Be Released
Japanese Format
Released
To Be Released
---
Please follow these rules when using this wiki, breaking the rules can lead to penalties such as banning your account. Remember to see this not a threats but prevention to keep a healthy environment
Duplicate accounts aren't allowed. If you forgot your password you can request a temporary one.
New users are put on a 2 week trial to confirm that they are trustable. During that time please be patient with them as they may not be familiar with how the site works.
You must follow the Terms of Use, which include no: vandalism, trolling, inappropriate language or content, ect.
If you post new information, please give a reliable source. Also, before asking for a source/proof, look at the history of the page, because it should be there.
Before asking questions about a card's ruling or a game mechanic, look at Rules, Ability types, or the ruling page of that specific card, because your answer may be there.
Off topic and fan stuff are allowed as blogs to a certain point, if your fan idea is too big please use the Fanon Wiki instead.
Do not reply to posts older than 1 week, always look at the dates of the post and it's replies to ensure you do not break this rule.
Use the Trade center to post sell/trade posts, not on any other page.
Be politically respectful. Remember anyone from anywhere in the world can visit this site, so avoid using politically incorrect terms as those can offend other cultures.
HOSTILE BEHAVIOR IS FORBIDDEN. Difference in opinion is a natural thing in society, if you wish to discuss anything, you must do so respectfully. Threads that risk breaking this rule will be deleted.
Visit our Editor's guide to learn more about how to contribute.
Visit here for more details.
---
When using the chat, you must follow these rules to keep it as a healthy environment.
Standard site rules apply to the Chat
Be careful when talking about delicate topics (like politics or religion) as they tend to begin arguments.
Never issue a warning when you yourself aren't a mod and one is present.
No spamming the same comment over and over.
Multiple minor violations in a short amount of time will lead to bigger penalties
Disrespect towards other users (i.e. making fun of others' conditions, races, cultures, or orientations, etc.) won't be tolerated.
Continuing flame wars outside of the Chat is strictly forbidden.
Visit Here for more details and rules mods must follow.
---
See here for more characters.
---
How do you feel about Buddyfight X as a whole?
---

"Driven to Disorder" is the X Climax Booster Set released in the Japanese format and English format. This set combines the Japanese Climax Boosters of X Climax Booster 1: Strongest Batzz Awakened ~Red Thunder Emperor~ and X Climax Booster 2: Worst Batzz Awakened ~Black Autodeity~ into one set! The final battle draws forth for Gao and his friends as he faces a multitude of final battles from Wisdom and even Geargod himself! Power up all of your decks to face off against Wisdom and Grimoire with his Disease deck, as well as a third new adversary, using the evil power of the Autodeity Army!! Can Gao rise against himself to save the universe?!
The character of this week is...
Grimoire!!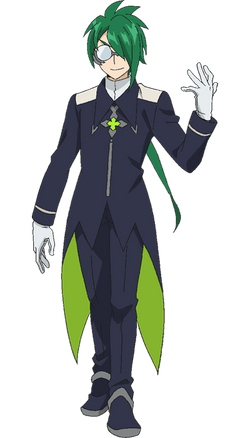 Episode X35: "X Episode 36: CHAOS Transcendent, Geargod ver. 099"
---
Email for customer support: sg_support@bushiroad-gp.com
Which is your favorite World?
Ad blocker interference detected!
Wikia is a free-to-use site that makes money from advertising. We have a modified experience for viewers using ad blockers

Wikia is not accessible if you've made further modifications. Remove the custom ad blocker rule(s) and the page will load as expected.