Home
Talk

0
1,586pages on
this wiki
"Future Card Buddyfight" (フューチャーカード バディファイト Fyūchākādo Badifaito) is other of the Bushiroad's Trading Card Games, officially announced on June 13, 2013.
This wiki provides the newest informations and translations about this card game and other media from that it was released on January, 2014 in both Japan and the US.
---
For those who are new to the game, take a look at the Gameplay page and learn about this card game.
---
September 12, 2014:
October 3, 2014
October 10, 2014
---
Please follow these rules when using this wiki, breaking the rules can lead to penalties such as banning your account. Remember to see this not a threats but prevention to keep a healthy environment
Duplicate accounts and users under 13 years old aren't allowed.
Be patient with new users, they may not be familiar with how this site works.
Spamming, Vandalism, Trolling, inappropriate language (even censored with something like "*"), etc. is strictly forbidden.
If you post new information, please give a reliable source. Also, before asking for a source/proof, look at the history of the page, because it should be there.
Before to ask questions about a card ruling or game mechanics, read some page in Rules, Ability types, or the ruling page of that specific card, because your answer may be in either of those.
Off topic and Fan stuff are allowed, but must be posted as blogs, not regular pages or forums. If you accidentally post it as a page, ask an admin to turn it into a blog.
Do not reply to posts older than a week or two, look always at the date.
Use the Trade center to post sell/trade posts, not on any other page.
Do not use terms that can be considered offensive in other cultures. Remember anyone from anywhere in the world can visit this site, also remember not everyone speaks English as their main language.
HOSTILE BEHAVIOR IS FORBIDDEN. Difference in opinion is a natural thing in society, if you wish to discuss anything, you must do so respectfully. Threads that break this rule or show risk of doing so will be deleted.
Remember to check the Chat rules.
---
See here for more characters.
---
Which is your favorite World?
Which is your favorite character?
---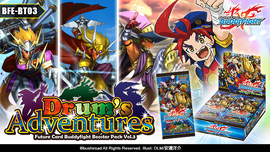 " Drum's Adventures" is the 3rd Booster Set. It contains new support cards for Danger World, Dragon World, Magic World, Katana World and Generic, as well as the introduction of the new world: "Dungeon World"!
Strengthen yourself alongside Drum, and better than no weak points in the very dangerous battle!
The "Card of the Week" of the week is
Demonic Beast, Grendel !
Abilities
[Call Cost] [Pay 3 gauge]


This card cannot be destroyed with spells, and cannot be returned to hand from the field.
"Death Curse" Destroy all monsters that attacked this card at end of your opponent's turn.
[Double Attack] (Once per turn, this card may [Stand] after it attacks.)
The "Character of the Week" of the week is
Raremaro Tefudanokimi!
Raremaro
Raremaro Tefudanokimi is the president of Sengoku Academy's middle school student council.
Episode 29: Activate! Mega Blast Bunker!
One of the four demon commanders, Raremaro Tefudanokimi VS Gao Mikado. Raremaro is able to compare to Rouga's defeat by Gao, he claims that defeating Gao will be the best match. Raremaro chuckles at Gao since he knows the prospect of victory against Dragon World, stunned, Gao declares that he uses Magic World. Gao's buddy that changed into Magician Drum, will show the results of his training...