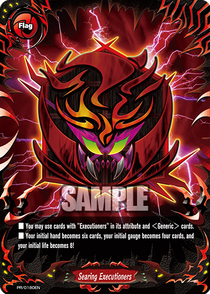 "Executioners" (地獄 Jigoku, literally "Hell") is an attribute.
Both Shura Gokumon and Guru Bunbuku are users in both Future Card Buddyfight Triple D and Future Card Buddyfight X.
Playstyle
Executioners cards revolve around either putting the top card of your deck into the drop zone as an extra cost or require certain amount of cards in your drop zone. Additionally, many of the Executioners can still be used as regular support for the normal Worlds they belong to.
List of Sets with Executioners Cards
List of Executioners Cards
Size 0
Size 1
Size 2
Size 0
Size 1
Size 3
Size 3
Size 1
Size 1
Size 0
Size 1
Size 2
Size 1
Size 2
Size 1
Size 3
Size 0
Size 3
Size 3
List of Support Cards
Size 0
Size 1
Size 2
Other