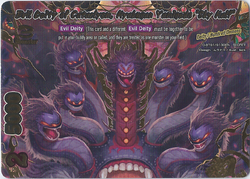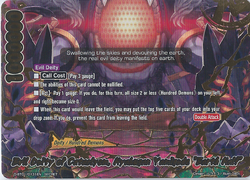 "Evil Deity"
is a
Keyword
that allows 2 separate cards with the Keyword to be called at the same time and to be treated as one singular
monster
while they are on the field, combining their written effects and stats.
However, it also restrict cards with it from being played separately by themselves and to be used as your Buddy without also using another different card with [Evil Deity].
Latest Reminder Text
[Evil Deity] (This card and a different [Evil Deity] must be together to be put in your buddy area or called, and they are treated as one monster on your field.)
List of cards with Evil Deity
Other
Trivia
This is the second keyword enclosed within a purple box rather than red. But unlike its counterpart, it appears on two separate cards that are connected.