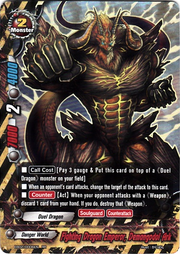 "Duel Dragon" (デュエルドラゴン Dyuerudoragon) is an attribute given to cards featuring dragons, its currently exclusive to Danger World.
Playstyle
Duel Dragons use monsters with very high stats to overpower the opponent through brute force, several of which require the player to have a certain amount of Duel Dragons in their Drop Zone. They have many effects that pay gauge to increase the player's life, often adding more Duel Dragons to the Drop Zone in the process.
Duel Dragons include monsters that have Soulguard and Counterattack simultaneously to punish the opponent for attacking them, some of which can even force the opponent to attack them. They also have several ways to increase the soul of their Soulguard monsters to prolong their longetivity.
List of Sets containing Duel Dragon Cards
List of Duel Dragon Cards
Size 0
Size 1
Size 2
Size 3
Size 2
Size 3
Size 3
List of Support Cards
Ad blocker interference detected!
Wikia is a free-to-use site that makes money from advertising. We have a modified experience for viewers using ad blockers

Wikia is not accessible if you've made further modifications. Remove the custom ad blocker rule(s) and the page will load as expected.