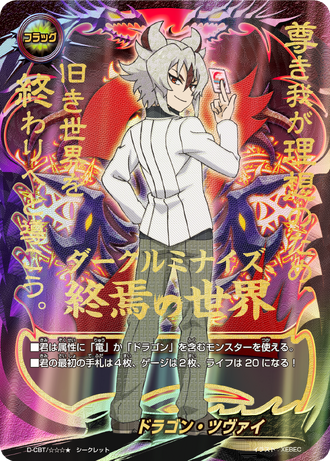 | | |
| --- | --- |
| English: | Dragon Zwei |
| Kana: | ドラゴン・ツヴァイ |
| Phonetic: | Doragon Tsuvai |
| Type: | Flag |
Flavor Text:
(D-SS03): To obtain my ideals, I will lead us to the end of the old world.
(PR): For the sake of my noble ideals, I will guide the old world to its end. Dark Luminize! World of Demise!
Ability / Effect:
You may use monsters with "Dragon" in its attribute.
Your initial hand becomes four cards, your initial gauge becomes two cards, and your initial life becomes 20!
Ad blocker interference detected!
Wikia is a free-to-use site that makes money from advertising. We have a modified experience for viewers using ad blockers

Wikia is not accessible if you've made further modifications. Remove the custom ad blocker rule(s) and the page will load as expected.