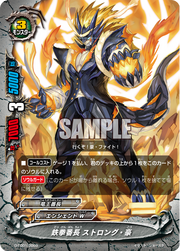 "Dragon Chief Emperor" (竜王番長 Ryūō banchō) is an attribute.
Playstyle
Dragon Chief Emperors focus on defending the center position with a size 3 monster with a much stronger focus on increasing their monsters' defense and possessing defensive abilities such as nullifying Penetrate or negating damage from card effects.
Their size 3 monsters can "evolve" into stronger forms when they have no cards in their soul.
As of XBT01, the playstyle of the Dragon Chief Emperors changed to focus on removing cards from your deck. Some of these cards have extra effects that activate if all the cards removed from the deck are Dragon Chief Emperors. A few of their cards have skills that activate when you have a certain amount of Dragon Chief Emperors cards in the drop zone.
List of Sets with Dragon Chief Emperor cards
List of Dragon Chief Emperor cards
Size 0
Size 1
Size 2
Size 3
Size 3
List of Support cards
Size 0
Size 1
Size 2
Size 3