Hot! Searing Executioners of Destiny! is the 24th episode of Future Card Buddyfight Triple D, and the 138th episode of the series.
Synopsis
Gaito is desperate to win his final match, as someone else has awakened the Dragon Force! His final opponent is the Searing Executioners User, Shura Gokumon! Shura is apparently a rival of Gaito, but Gaito doesn't even recognize him. With a deck that basically counter's Gaito's, will Shura be able to prevent him from advancing?
Trivia
Searing Executioners, Gate of Verdict, -Judgment-, Executioner Hammer, Helles Fander, Glutton Jailer, Glugiu, Sound Speed Jailer, Helle Gepard, Helles Shield, and Master of the Searing Executioners, Gagalgarios first appear in the anime in this episode.
Gaito achieves the first deck out win in this episode.
Video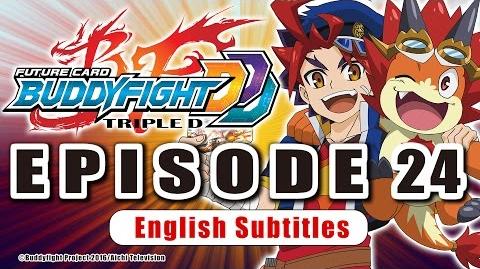 Ad blocker interference detected!
Wikia is a free-to-use site that makes money from advertising. We have a modified experience for viewers using ad blockers

Wikia is not accessible if you've made further modifications. Remove the custom ad blocker rule(s) and the page will load as expected.