Bal! Fire, Galactical Punisher! is the 23rd episode of Future Card Buddyfight Triple D, and the 137th episode of the series.
Synopsis
As Gao and gang hunt for Doctor Gara, who has Bal hostage, Tasuku is one match away from making it to the World Championships. His opponent, the mysterious Ageha Gokuraku uses an unknown deck known as the Divine Guardians! As her deck becomes too tough for Tasuku, will he be able to turn the tables with "Galactical Punisher!"?!
Plot
      Before the episode begins, Ozon B  explains the events of the previous episode: Dr. Gara trying to open Bal 's shell with a chainsaw after abducting Bal, discovering a secret lab under the island with Rouga , later turning into an explosion. Barely escaping, Ozon B  gets pecked by seagulls (again) and decides to start the episode.
      At the hotel top, Rouga says that because Cerberus lost all trace of Bal, they can't help Gao anymore. Gao wishes Bal that he is safe, for he promises to get Bal back. Then Paruko explains that its the 4th day of the tournament and explains that Gaito has been beaten by Tasuku by surpassing him and obtaining his 99th win. After getting teleported down, Tasuku decided that they should rest for the day until he gets a phone call from Gao. Shocked that Bal got abducted by Dr. Gara and were nearly killed by the labatory trap, Tasuku and Jack decide to rush to help out Gao. However, they hear a voice and it revealed Cho-Nagoya 's representative, Ageha Gokuraku and her buddy, Aettir, found them and decided to challenge him.
     At the same time, Paruko obtained a Paru-Call and teleported to the next buddyfight, while Gaito finished of a Hero World fighter with his Gale Scythe. Happy that its Tasuku's 100th fight, Paruko says that no matter what she must commentate the fight, while Ageha says its all according to plan. After teleporting to the UFO stage, Gao, Baku and Kuguru watch in upset as Tasuku began a fight before they could start searching for Bal. Knowing that he couldn't turn down a fight, Tasuku had to accept. Then, Ozon B emerges from the ground saying that he survived last week's die-hard explosion, and decided to commentate on the fight too.
Major Events
Card Debuts
Trivia
Ageha Gokuraku and Eternal Envoy, Aettir make thier first major appearances.
Tasuku is the first person to obtain the Dragon Force fragment, as well as being the first Japan Representative.

This episode shows small hints of Bal being Balle Solleil , as the Dragon Force responded to Galactical Punisher (That Bal made for Jack and Tasuku, and the Dragon Force responds to Balle Soleil)

This is the first reappearance of a Punisher since H ep 41.       
 Featured card: Jackknife, "Galactical Punisher!"
Ozon B the fourth wall breaks the fourth wall saying that he survived last week's explosion in which it occured in the previous episode which aired the week before this one.                                                          
Video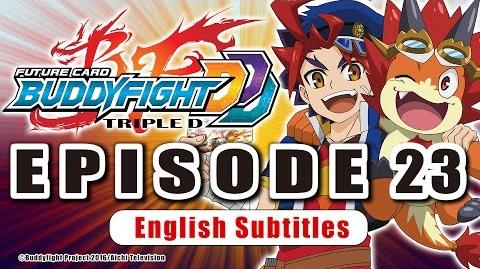 List of Season 3 Episodes (Triple D)
#1 Uh-oh! An Impact Monster is Born! ● #2 Amazing! A Sure-fire Way To Win Buddyfight! ● #3 Scary! Gaito`s Impact Monster! ● #4 Cool! Jack`s Impact Monster! ● #5 So Mean! Demon Coach Asmodai! ● #6 Impressive! Abygale versus Azi Dahaka! ● #7 It's Here! WBC Cup Cho-Tokyo Championship! ● #8 So Lovely! Uniform Warrior of Love and Courage, Blazer Frill! ● #9 What? The Stolen Impact Monster! ● #10 Yikes! An Unexpected Fishy Disaster! ● #11 So Huge! Chiefs' Showdown! ● #12 It's Not Working! Bal Burst Smasher? ● #13 It's Here! Duel Jaeger Revolted! ● #14 Hooray! Cho-Tokyo Championship Final Festival! ● #15 Pow! Great Full Bal Lariat! ● #16 Shock! Zanya's Retirement Declaration! ● #17 Full Steam Ahead! To the Japan Representative Invitational Island! ● #18 Here it Comes! WBC Cup Japan Tournament! ● #19 Here it Comes Again! Terrifying Natural Enemy, Zodiac! ● #20 Danger! The Wolf Makes Its Move! ● #21 Grandmother! Enter Tenka Gotsurugi! ● #22 Yikes! 5 Seconds to Detonation! ● #23 Bal! Fire, Galactical Punisher! ● #24 Hot! Searing Executioners of Destiny! ● #25 Wow! Bal Saucer Over Rush! ● #26 Go, Go! Bal's Surging Steady Advance! ● #27 Gao! This is the Dragon Force! ● #28 Here it comes! Here it comes! Here it comes! WBC Cup World Championships! ● #29 Scary Trap! Jackknife, Arrested! ● #30 Wedding! Man Mountain Range, Devil Destroy! ● #31 Zetta! Shocking Mobile Berserkers! ● #32 Meow Meow Meow! Meow meow, meow meow! ● #33 For Real? Fake Replica Weapon, Gemclone! ● #34 Revenge! The Tiger Roars Twice! ● #35 Last Fight! Farewell, Abygale! ● #36 Serious Trouble! Impact Origin Breaker! ● #37 Ultra-Amazing! Super Sun Dragon, Balle Soleil! ● #38 Pops! Azi Dahaka's End! ● #39 Endless! Black Sky Sun Dragon, Azi Dahaka Daeva! ● #40 Final! WBC Cup World Championships Final Match! ● #41 Super Sun Dragon vs. Black Sky Sun Dragon ● #42 Seriously?! Mind-Blowing 20,000 Defense?! ● #43 Colliding Forces! Tasuku vs. Gaito?! ● #44 Revenge! Doctor Gara Strikes Back! ● #45 Seriously Hot! Gemclone's Heart! ● #46 Good Luck! Wolf's Final Fight! ● #47 Massive Shock! Dragon Drei's Amazing Power! ● #48 Secret! The True Nature of Project Triple D! ● #49 Fight! Buddy Champion Deciding Round! ● #50 Climax! Unleash the Eternal Bal Blaster! ● #51 Bye-bye! Eternal Farewell to Bal!