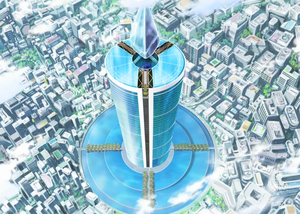 "
Go to work!
"

—Buddy Police officers
The Buddy Police are a crime-fighting law enforcement agency that hand out Core Deck Cases to people who become Buddies with a buddy monster and begin Buddy Fighting, and protect the world from anyone who abuses the otherworldly powers of these cases and Monsters.
At first, the Buddy Police was a people's army honestly devoted to protecting people, however Sueroku Shido and Seiichi Nobari began sabotaging the Buddy Police under the excuse of "putting the law above the safety of others", using their position to keep the Buddy Police from investigating Disaster. Then they began to "confiscate" people's Buddies as if they were property.
They also began putting more and more restrictions on their more capable personnel like Tasuku and Commander I, ultimately firing both of them. It is later revealed that Sueroku and Seiichi in fact work for Kyoya to break Tasuku's sense of justice so he joins Disaster.
After finding out the truth, Commander I, Stella, Takihara, and Captain Answer devise a plan to find incriminating evidence to get rid of Nobari and Sueroku. While someone else had to take Answer's place and the evidence was destroyed, the plan was successful, Nobari was arrested, and order is restored to the Buddy Police.
After a hundred invaders arrive on Earth, the Buddy Police starts taking in more young Buddyfighters as trainees to help combat the invaders, this at first consisted of Gao who was later joined by Tetsuya and Zanya and after his return from training, Tasuku, who took up the role of leader of the Buddy Polie Youth.
After the whole planet has learned of Yamigedo's and the Hundred Demon's existence, Gao and the Buddy Police immediately find the rest of the Omni Lords in order to defeat the Hundred Demons and Yamigedo.
Following the end of the Hundred Demons Crisis, the Buddy Police Youth disbanded due to the members wishing to pursue other interests and due to the desire to play Buddyfight for fun rather for business.
List of Members
Buddy Police Youth (Disbanded)
List of Former Members
Ad blocker interference detected!
Wikia is a free-to-use site that makes money from advertising. We have a modified experience for viewers using ad blockers

Wikia is not accessible if you've made further modifications. Remove the custom ad blocker rule(s) and the page will load as expected.