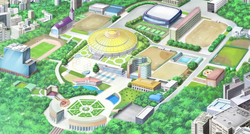 Aibo Academy (相棒学園 Aibō Gakuen) is the school of the main character, Gao Mikado, as well as many of the supporting characters. Its classes span from elementary to college. It's located in Chō Tokyo's 7th block. The school is reached by taking an escalator from the train station. The academy offers a special Buddyfight course, ranks the fighters in each grade, and has a Buddyfight stadium.
The ABC cup takes place in Aibo Academy every year.
In Episode 47, The Gaen Cup is held at Aibo Academy and in charge of constructing the fighting stage; Aibo was also placed under the ownership of the Gaen Financial Group. After Kyoya was defeated by Gao, he removed all his influence from Aibo Academy.
List of Aibo Academy Staff
List of Students
9th Graders
8th Graders
7th Graders
6th Graders
5th Graders.
4th Graders
3rd Graders
Gallery