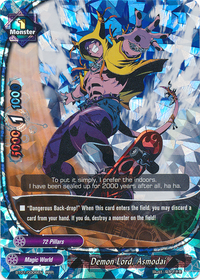 "
The 72 Pillars are made up of deities who have lost their people, or angels who had been despised because they loved mankind too deeply.
"

—Demon Realm Warrior, Zepar's flavor
"72 Pillars" (72 柱 72 hashira) is an attribute given to cards named after the 72 demons of the Ars Goetia.
Sets with 72 Pillars Cards
Playstyle
72 Pillars (in Magic World) mainly rely on rush tactics, often with size 1 Monsters and occasionally reduce Sizes to always have 3 attackers on the field, and sometimes use abilities to call monsters during the Attack Phase to do potentially more than 3 attacks in one turn. Because their monsters tend to be low powered, they use a large variety of effects that can get rid of obstacles that their weaker monsters would struggle to take down on their own. They also have many "on-call" abilities and effects that return monsters to the hand and reuse those abilities.
List of 72 Pillars Cards
Size 1
Size 1
Size 4
Size 1
Size 2
Size 0
Size 1
Size 2
Size 3
Impact Monsters
Size 2
Size 1
Size 2
List of Support Cards
Ad blocker interference detected!
Wikia is a free-to-use site that makes money from advertising. We have a modified experience for viewers using ad blockers

Wikia is not accessible if you've made further modifications. Remove the custom ad blocker rule(s) and the page will load as expected.